The Museum of Commercial Radio
A COLLECTION OF RADIOS WE HAVE GATHERED FROM THE 70s UNTIL THE PRESENT (WITH MANY PICTURES CONTRIBUTED BY SITE VISITORS).
ABOVE - Ever Ready - Model - K - battery valve portable (no date or price available)

RIGHT - Ever Ready Model C/E all dry battery portable produced in 1948, originally costing £11. 11/-, batteries and purchase tax extra.It used a B103 combined LT/HT battery (1.5 volts/90 volts)

(Pictures kindly donated by Keith Watt.)
---
| | |
| --- | --- |
| | |
| | |
| --- | --- |
| ABOVE - Vidor model My Lady Margaret - Attaché case battery valve portable, made June 1954, original price £9 9/- plus tax and batteries. | ABOVE - WWII Wireless Set No. 22 dated 1943. Fully working, with headset and mic, power supply and morse key. |
(Pictures kindly donated by Keith Watt.)
---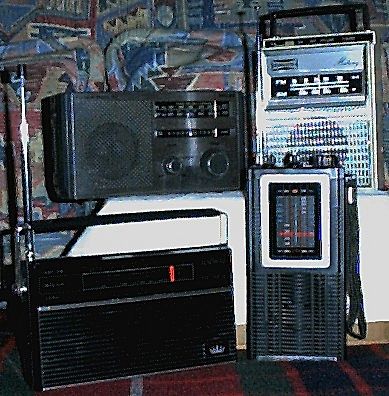 TOP LEFT - Philips 182 MW/LW / TOP RIGHT - Dansette Medway AM/FM
BOTTOM LEFT - RGD Rover AM/FM / BOTTOM RIGHT - Flight Multiband FM/Air/PB/CB
---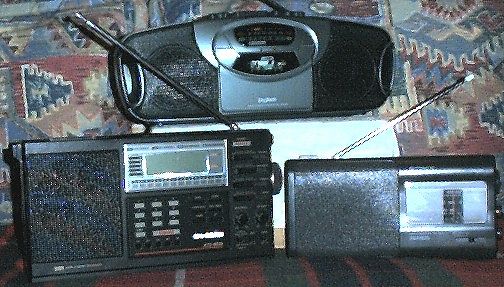 TOP - Protech Radio/Cassette AM/FM
BOTTOM LEFT - Sangean ATS-803A World Band Receiver / BOTTOM RIGHT - Sony ICF-780L AM/FM 3-band
---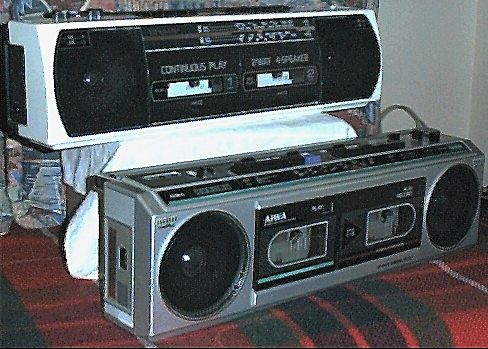 TOP - Sharp WQ-268E(W) Radio/Cassette AM/FM
BOTTOM - Aiwa CS-W300 Radio/Cassette AM/FM/SW
---
Hitachi TRK-W55E Radio/Cassette AM/FM/SW. Good machine with cue/search and mic mixing facilities on the cassette decks.
---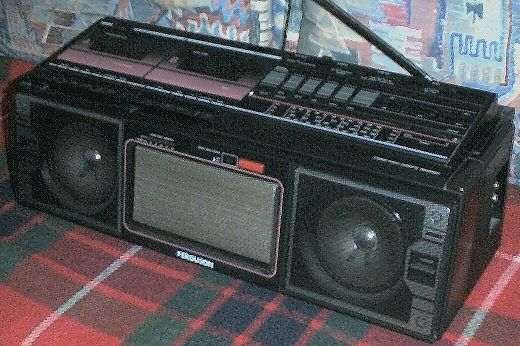 Ferguson RC 01 Radio/Cassette AM/FM/SW with built-in graphic equaliser. We purchased this as it was the only domestic machine available at the time with about every input/output socket you would ever need (line-in, line-out etc). PC sounds great through it!
---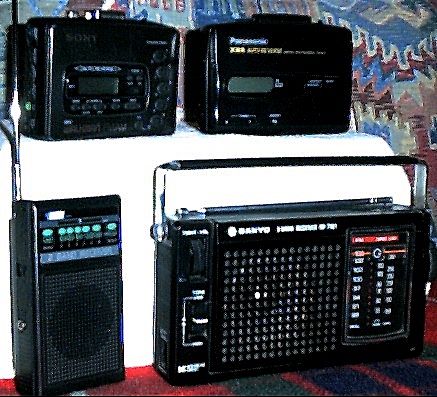 TOP LEFT - Sony Walkman Personal Stereo/Radio / TOP RIGHT - Panasonic RQ-V185 Personal Stereo/Radio
BOTTOM LEFT - Phase PHZ 0143 AM/FM / BOTTOM RIGHT - Sanyo RP 7161 AM/FM 3 band
---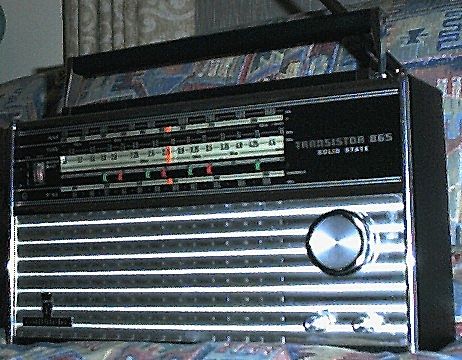 Grundig Mariner AM/FM/SW/Marine 4 band. Lacks BFO for SW and Marine Band use, but this can be overcome by putting another radio close to it and inducing a "BFO" signal into it! A real quality set.
---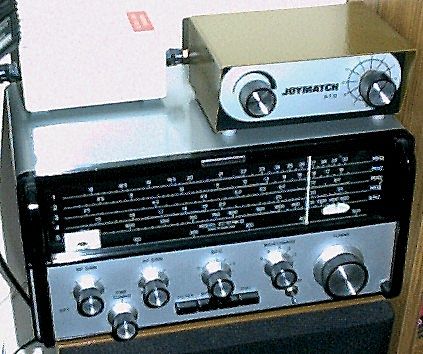 Eddystone EC 10 Mk.II Communications Receiver with Joymatch Antenna Tuning Unit and Mains Filtering Unit. This set is now a legend. Fully transistorised and in excellent condition.
---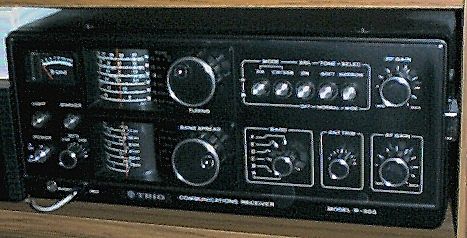 Trio / Kenwood R-300 Communications Receiver. Probably about the last of the analogue tuners, and a beautiful machine - listen to the whole world with ease!
---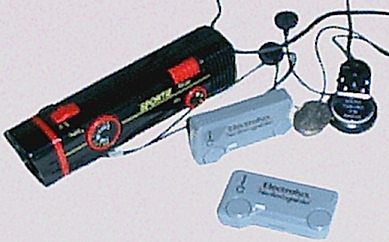 NOVELTY TIME! - TOP LEFT - Sportie Flashlight with AM/FM radio. CENTER - 2 Electrolux Micro radios
RIGHT - Jogger's FM Auto-Tuning radio (pictured beside a 50 pence coin)
---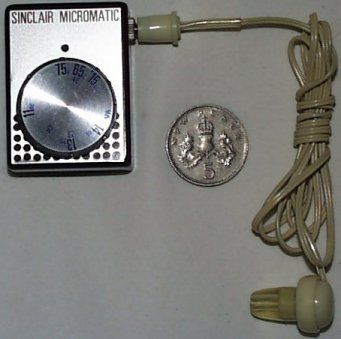 Sinclair Micromatic MW radio with earphone pictured next to an old 5p coin. It was marketed in the 70s as the smallest MW radio on the market and used 2 hearing aid batteries. (Picture kindly donated by Keith Watt.)
---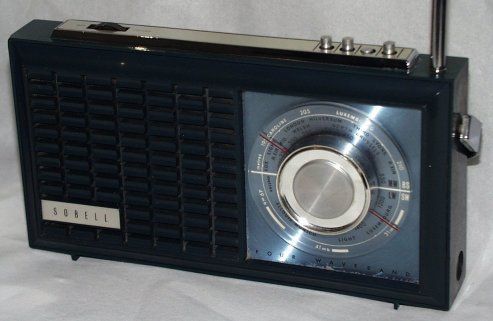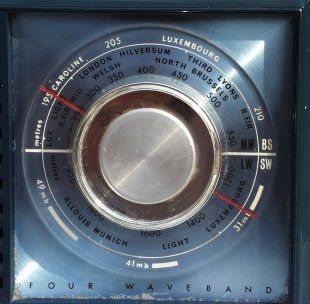 Sobell 4 band receiver from the 60s with bandspread covering Radio Caroline on 199 metres and Radio Luxembourg on 208 metres. Close-up of the dial shows the stations actually marked. (Pictures kindly donated by George R. Tuck, Amateur Radio Callsign G4RNI.)
---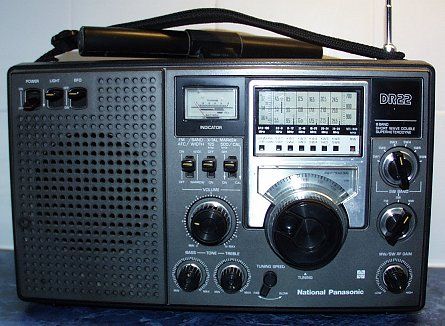 National Panasonic DR22. This lovely little set has MW, SW from about 3.8 to 28MHz and FM. It features a BFO, switcheable IF band width and selectable tuning speed and AFC along with a crystal marker every 125kHz and calibrator every 500kHz. Circa 1977. (Picture kindly donated by George R. Tuck, Amateur Radio Callsign G4RNI.)
---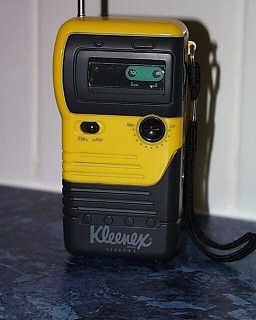 A radio which bears a commercial for Kleenex brand tissues. It is believed to hail from circa 1990 and one wonders how many colds you had to endure to get this item free with a number of purchases! (Picture kindly donated by George R. Tuck, Amateur Radio Callsign G4RNI.)
---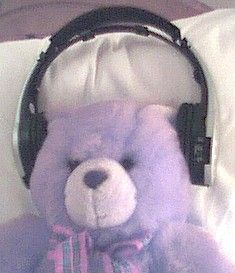 This one doesn't "bear" a commercial for anything, but it's great for listening to in bed. It's an AM/FM headset radio which comes with "ISIS" men's body spray from Marks & Spencer and is excellent quality. The body spray's not bad too!
---
Great for listening to in bed also - so good you don't want to get up. Hitachi Radio Alarm from about late 70s/early 80s, and built like a tank!
---
A great addition to the museum, this is a fantastic Philips self-powered AM/FM radio. It can run on normal batteries, but why bother when all you need to do is wind the handle for 1 minute and it gives you 30 minutes play.
---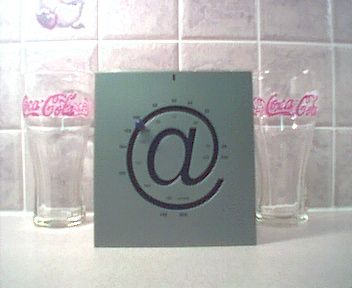 This one gives a whole new meaning to internet radio! It's AM and FM and it's so satisfying to tune it in round the sweeping curve of the @.
---
Got this for nothing - rescued it from a skip! ProSat Digital Audio Satellite Receiver complete with ProAmp 30 Professional Power Amplifier. I also have the dish for this but can't get a squeak out of it yet! I'll need to have a closer look at my co-ordinates! It appears to be pre-tuned to a non-stop music service.
---
A sad tale . . . . . with a happy ending! This Bush SRC 287CD radio/cassette/CD player with high-speed dubbing is only about 6 years old but has had a hard life. It came to us with the CD player broken, the aerial missing and the whole thing covered in candle grease! It has been cleaned up and repaired and is working perfectly - we did need a portable CD player around the museum.
---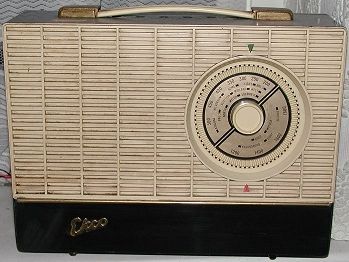 Early Ekco portable radio still in working order. (Picture kindly donated by Keith Watt.)
---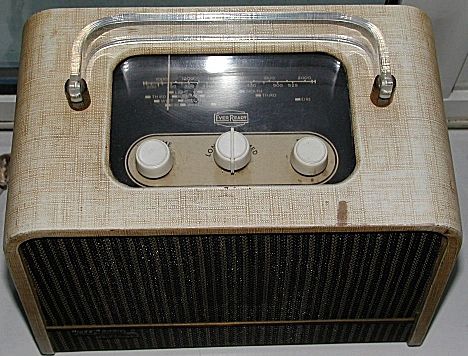 Ever Ready Sky King. (Picture kindly donated by Keith Watt.)
---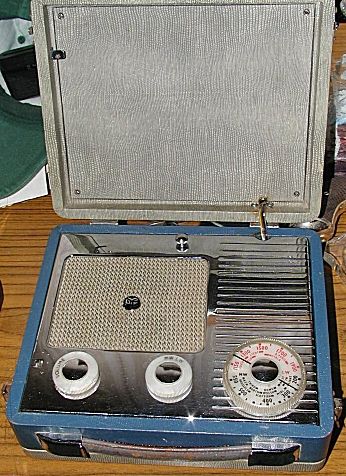 Pye Model P114BQ. (Picture kindly donated by Keith Watt.)
---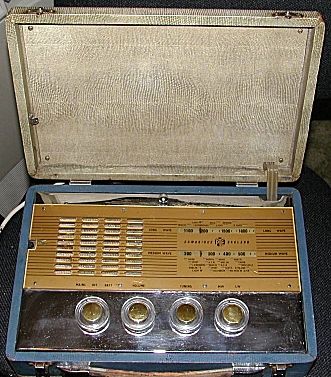 Pye Model P131MBQ. (Picture kindly donated by Keith Watt.)
---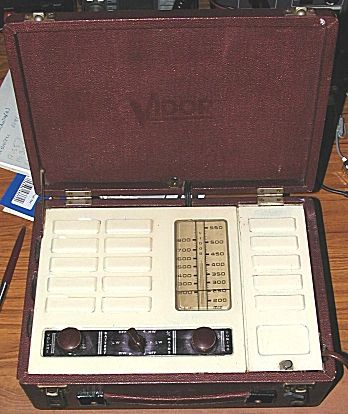 Vidor Model CN396A. (Picture kindly donated by Keith Watt.)
---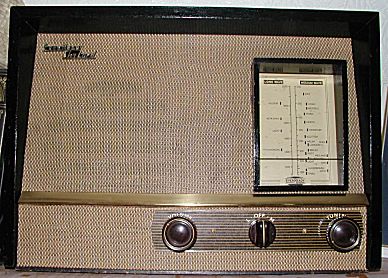 Ever Ready Sky Lord, dry battery powered table top valve radio, MW/LW (restored and working).
(Picture kindly donated by Keith Watt.)
---
Masteradio Model PB101 MW/LW valve attaché case portable (in working order)
(Picture kindly donated by Keith Watt.)
---
Vidor Model 381 battery valve attaché case portable, dated 1948 (restored and working). Original price £9-17/6d including batteries, but plus purchase tax.
(Picture kindly donated by Keith Watt.)
---